Voyaging the Unexplored: An Introduction to Blender
release date : update date :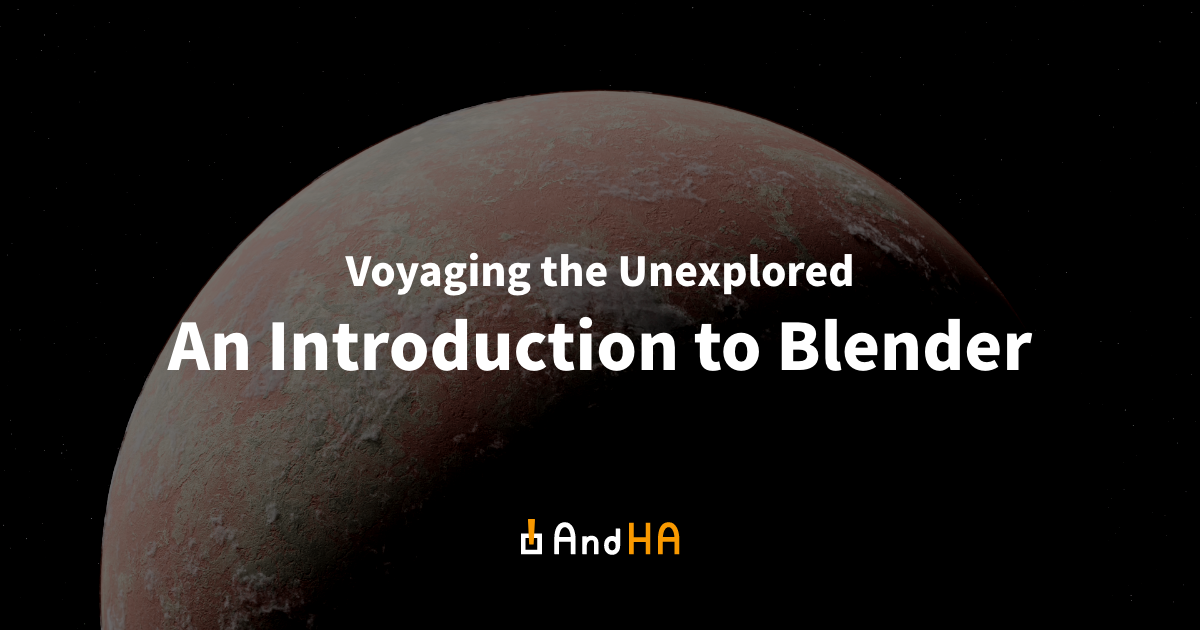 Introduction
Hello from the motion graphics team, it's M!
With the last 20 years of 3D animation taking over traditional animation methods, it might be worth learning about what 3D softwares are out there and what they do.
There is no better place to start your 3D modeling and animation journey than Blender.
AndHA would also like to start writing blogs on the topic of Blender, so we hope this serves as a nice introduction to what is Blender and why we use it.
Background
Blender is an open-source 3D modeling software that is used for visual effects, art, 3D printing, motion graphics, VR, and of course animated film.
It was first released as an in-house application to Dutch creator, Ton Roosendal. After the dissolving of his original company, and a bankruptcy after a shareware model of Blender failed to gain an audience, Blender ceased production until 2002 when it was crowdfunded under a non-profit foundation.
Blender has remained open-source, which has helped create a grassroots community of developers, designers, animators, and artists around the world.
Alternatives to Blender
To be frank, Blender has a high learning curve and is not the commercial choice for many brands. Other 3D modeling software are more nuanced and have better user interfaces.
Pixar's RenderMan, which was used in Toy Story, Jurassic Park, Avatar, Star Wars, Lord of the Rings, etc. is considering the standard for high-end 3D effects and animation.
Autodesk develops 3 leading software in 3D modeling and animation.
AutoCAD is the standard in 3D modeling for architectural design and engineering.
3ds Max is a 3D modeling software used in Marvel films, Harry Potter etc.
Autodesk's Maya was used in every single movie that won best special effects from 1997 to 2015.
Cinema4D is used for Apple's commercials.
Houdini is used for procedural generation animation for DreamWorks, Pixar, and Disney.
Even Japanese companies are using alternatives to Blender.
Doraemon: Stand by Me was made using 3ds Max while Slamdunk (2022) used in-house tools "AnimStroke", "AnimShape", and organized their animations using AutoCAD's ShotGrid software.
Then why Blender?
With that said, what does Blender have above these industry-leading software?
Well for one, let's start with the price.
Blender is the best price: free.
Other software may have trial versions, or ways to learn the software on a limited version that might restrict access to software features or make it so you can not export your models and animations for commercial use. Not to mention that most software companies will give you a rate based on you, your company, or your income.
Houdini has a trial version where you can learn how to use the software, but if you want to sell something or use it on a project for your company, it will cost hundreds of dollars a year for an individual making less than $10,000 a year or far higher for companies, which has an additional free to include the FX features.
Maya has two different subscriptions. A base subscription and a token subscription. You can either pay around $350 a month or buy tokens (only available in certain regions) where you can buy 100 tokens for $350. These tokens are shareable and can be used to gain access to Maya for 24 hours.
When it comes to just trying to begin your path down 3D animation, a lot of these prices are high or just confusing.
Beginning a Journey
Blender is also the best stepping stone to enter the industry.
The skills you gain from Blender can translate over to other softwares. Animators like Colin Levy got their start in 3D modeling and animation using Blender before moving on to companies like Illumination or Pixar.
Blender is not the only open-source 3D modeling software. There are alternatives like FreeCAD or OpenSCAD, but these won't have the same community support that Blender has. Not to mention that Blender is available in 65 different languages. And a quick search on Google will give you access to thousands of content creators, blogs, and tutorials from passionate users around the world.
Blender is not where the world of 3D modeling ends, but it is where everyone should begin.
Grassroots King
Blender is only gaining more popularity.
As early as 2004, Blender was used in the production of the Spiderman 2 movie. It was used in The Secret of the Kells. The anime studio Khara, the studio behind Shin Evangelion, moved to using Blender as its main software in 2019.
Last year, Sinking Feel won multiple awards and that was done almost completely in Blender and it's Grease Pencil tool, which makes cel-shaded 3D models.
Foundry's Modo, which was Apple's choice in 3D modeling for projects, has had it's community start recommending Blender as their choice of 3D modeling software. As for Blender, it is constantly being updated both by Blender Foundation and its community, so it will continue to receive support for the foreseeable future.
A large number of artists and animators are growing due to the availability of Blender and it is the de facto learning tool for 3D modeling and animation. It has hundreds of free plug-ins from rendering google maps to creating stop motion animation.
It is a good tool for exporting your materials for use in WebGL and Adobe softwares like After Effects, Photoshop, and Premiere for post-processing.
It is just one more weapon to add to your arsenal.
Conclusion
As we come to a close, we hope that this article gives some insight on the world of 3D modeling and animation.
Going forward we'd like to include more information, tutorials, and development in the world of 3D modeling and animation as it is heavily used through-out web development and design.
As we expand our horizons in our projects, we hope that our future updates on Blender will serve as a good guide in your projects as well, so stay tuned!